Hyperfocal Design have been developing technically accurate HDRI sky maps and sky textures for computer graphics professionals since 2002. Hyperfocal offers un-clamped HDR skies, photographed with thick neutral density filters to accurately capture the sun, and give artists a true 1-step, HDR only lighting workflow, complete with bright highlights and sharp shadows. This is why companies as diverse as Warner Brothers in film, Electronic Arts in gaming, The Gnomon Workshop in 3-d training, and all manner of professionals choose Hyperfocal products when they need the ultimate HDRI sky or environment. See what our customers say about us below, check out our range of products on the side menu, or enjoy our complimentary range of tutorials and samples, here.
Hyperfocal Night Skies 2 in Requiem 2019, a film directed by Sil van der Woerd and Rutger Hauer.
Best Selling Products
V-Series: NIGHT SKIES 2
$197.00
Our most popular, highest resolution night sky textures with bonus HDRI moon images
V-HDRI SKIES
$297.00
An assortment of high resolution HDR skies with very high dynamic range, and varied weather/times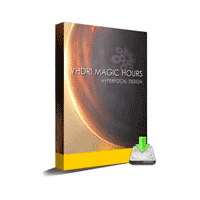 HDRI Sunset Skies
$397.00
A collection of sunset and twilight skies featuring very high resolution
Time-Lapse HDRI Sky Domes
$979.00
Our latest product, time-lapse sky photography shot with extreme precision
Our Latest Product, Time-Lapse HDRI Sky Domes
Find out more about the time-lapses here.
Here at Hyperfocal Design we believe you should be able to experience products personally before you make a decision. This way you can put our products to the test yourself, without relying on sales speak. If after purchasing any of our products, they don't completely live up to your highest expectations, just return it at any time for a no questions asked refund. We use the highly trusted payment provider, FastSpring.
Hyperfocal Design: Dedication to Quality and Usability
Hyperfocal Design offers a range of sky textures and HDRI sky maps with true dedication to quality control and usability. Our skies are shot with the best hardware and lenses, the resulting images are scrutinized and edited with multiple passes to remove any unwanted artifacts or objects, and the horizon line is removed so you can use the skies in any situation. We filter the sun with strong neutral density filters in order to capture the disc of the sun, meaning the HDRI is un-clamped and is usable without a supplemental, artificial light source.
We offer everything from sky textures and night sky textures to super high resolution, high dynamic range sky maps (our VHDRI Skies and Moments collections) to our brand new time-lapse sky domes, which feature animated skies that go from morning until night. Use the top menu nagivation to find our entire range.
Reviews from Satisfied Customers
"Hyperfocal Design provided us with an exceptionally good product that really helped our work immensely."

– Antonio Kotzias, Yafka Studio
"You can never have enough HDR libraries, but now a days, what makes a good HDR is not only its technical quality but its artistic merit as well. The HDRI skies from Hyperfocal Design shows great technique, high res, great dynamic range, and high quality photography, with a wonderful aesthetic eye that will offer the users a great lighting resource."

– Christopher Nichols, Author of Global Illumination: Exteriors and Interiors from The Gnomon Workshop
If you compare the number of images you receive, the quality, the variety and price, you will find this collection pretty hard to beat."

– Jeff Mottle, CGArchitect.com
"Your sky collection is terrific and we have used them in several projects that have been on exhibit at several museums throughout the US and Europe including the Museum of Modern Art (MoMA) here in NY and the Louvre in Paris."

– Brandon Hicks, MarchMade
"The skies were great and really allowed us to get some nice drama and mood into the shots"

– Dave McDonnell, Blinkworks
"Could you inform us when you have more skies available? We love them"

– Oscar Carlen, Artist on Battlefield 2
"Quick, brilliant results with zero hassle"

– Eric Bailey, Artist for Live for Speed
"With the quality and value that Hyperfocal is providing on this CD, expanding their offerings will guarantee them an expanding role as a serious force in the graphics and textures market. I'm looking forward to seeing what they produce in the future!"

– Andrew Smallwood, CGFocus.com
Latest from the Hyperfocal Design Blog